Let's talk traditions...
The greatest tradition I know of is Greek food... I could be biased but whatever it's my blog. The recipes have been passed along from "generation to generation", hoping you get my sacrilegious pun there, and they are incredible. The Greek food flavors are like no other. I couldn't be more excited to break my diet for a weekend and overindulge in about 100 wedges of patátes, about 87 ketftedes and roughly 40 slices of moussaka... those are by far my favorites. The weekend I am referring to is GREEK FEST WEEKEND! If you're Greek you know what I'm talking about! Lots of food, dancing, and all-around fun!
What about the food I just mentioned?
Let's start with the patátes (Greek style potatoes). Just by definition it means potatoes, but if you're saying it in Greek and you're in America ( NOT talking to your Yiayia about grocery store items) this is the kind you're talking about. Usually in a wedge shape and marinated in the juices of the tender lamb shanks; At the greek fest it is a tomato- red sauce marinade ...wait a second, I can't tell you all the secrets! Anyway, they are roasted to perfection, only one could dream of making so good at home. You just have to try them!
Here is a version of my homemade patátes, in this dish I made with Stuffed peppers and tomatoes (Gemista)... should I make a blog post on this? Let me know in the comments!
Also please don't mind my very basic salad with butter lettuce that clearly is not in the Greek style dish department, don't tell my ancestors as they would not be happy there is also no feta.
Moving on to my FAVORITE, like I could eat myself into a coma of these... KEFTEDES *insert heart eyes here*. What is that, you ask? Greek-style meatballs *insert more heart eyes*. They are made with an overwhelming amount of lemon and love, smothered in an avgolemono sauce (more lemon), some egg, cornstarch, and chicken broth (I'm sure there are other versions as well) It's kinda like the Greek version of frank's redhot sauce, we "put that S*** on EVERYTHING", as well as oregano, bechamel, and even more so feta cheese. You need to try some keftedes, they fly out like hotcakes and are usually one of the first things to sell out at the Greek Fest.
Side note, they usually come in quantities of 4 or 8 but I can never get my phone out before they run into my mouth.
Last, but certainly not least is the Moussaka! This is a Greek STAPLE dish, if you have never had this, you need to go to Mykonos in Tarpon Springs (if you are in Florida) TONIGHT for dinner and order some- Theirs is my favorite in Tarpon on Dodecanese Blvd! Then come to the Greek festival on February 14th-16th in Port Charlotte and try our Chef Peter's, which is amazing as well! I can never go a festival weekend without having some! I end up with about 4 large to-go containers full of my favorites every year post-festival and I wouldn't want it any other way!
No, I'm not implying that Greek festivals are ALL about food, there is lots of dancing, drinking, and socializing to be had as well!
When I was younger, I dressed up in the traditional village costumes, each village had its own style of clothing. Generally speaking most costumes I've worn are based on the island of Crete's traditions. This costume consists of an undershirt, pantaloons, a front and back apron, a jacket of some sort and a Mandili (headscarf) with dangling tassels.
After traditional dances are performed, there is a "Grape Stomping" time which is exactly what it sounds like. Ladies volunteer to have men take off their shoes, "wash" their feet (throw some water on 'em), enter a white dock looking structure, and stomp on some grapes while praying you don't slip! Just an FYI here, no, we do not use the juices produced... though there may be some brave 80 year old man that will drink the product. Here is a pic of me stomping on some grapes that made it into the local newspaper one time!
My favorite part of the dancing BY FAR is what we call at our church the "Taverna" show. This is the non-traditional or "today's tradition" version of dancing. The songs are upbeat, you can take a few shots of ouzo along the way, and the dress code is whatever floats your boat. Here is a video of my cousin, Socrates, and I at my wedding dancing a Zeibekiko for your viewing pleasure:
Also for your viewing pleasure is a video of my HUSBAND, Hunter, learning how to do the Kalamatianos, make sure you have the volume on:
SOOOOO I hope this post has been entertaining, to say the least, and hope you join us February 14th- 16th at the Holy Trinity Greek Orthodox Church's GREEK FEST! Visit: http://www.greekfestportcharlotte.com/
If you are interested in purchasing an ad for your business we have MANY different packages that will have exposure ALL OVER the festival grounds. WELL WORTH YOUR PENNY! You can view our packages here: https://www.holytrinitypc.org/online-store/Greek-festival-sponsorships-p168528237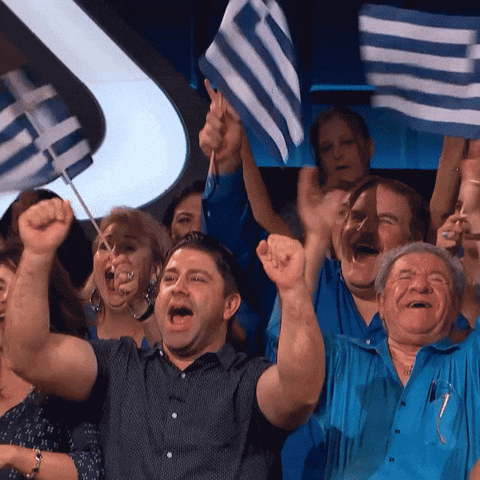 .
And as we say in Greek, Yasas!